Ezra Miller is Writing 'The Flash'; Here's Everything We Know
Tue, 19 Mar 2019 21:22:20 GMT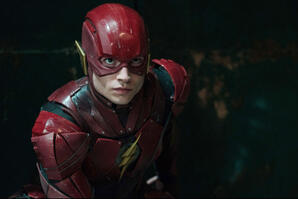 The last time we saw The Flash on the big screen, he was racing Superman at the end of Justice League. Fans of the speedy superhero have hoped that a solo movie for Barry Allen would soon follow, and actor Ezra Miller is among those anxious for the character to return to theaters in his own spinoff adventure. Fortunately, Warner Bros. is all for finally giving The Flash his first live-action motion picture and plans are already set in motion. According to The Hollywood Reporter, the latest...
First 'Toy Story 4' Trailer Debuts; Here's Everything We Know
Tue, 19 Mar 2019 16:59:54 GMT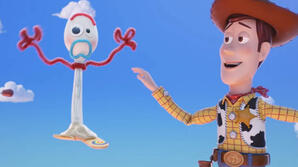 The next release from Pixar will be Toy Story 4. Though Toy Story 3 appeared to wrap up the series nicely back in 2010, Toy Story 4 will be a road trip adventure that will stand apart from the first three installments. Here's everything we know about the film. What's the story? Here is how Pixar describes it: "Woody has always been confident about his place in the world and that his priority is taking care of his kid, whether that's Andy or Bonnie. But when Bonnie adds...
SXSW Film Festival 2019: The Funniest, Craziest and Scariest Movies You Need To See
Tue, 19 Mar 2019 16:15:04 GMT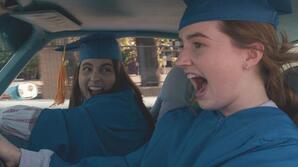 Fandango just spent ten days all up in movies at the 2019 SXSW Film Festival in Austin, Texas, and while we definitely returned with a barbecue hangover, we also have a handy list of the best movies we watched during that time. Want some juicy recommendations of movies to look out for in the coming days, weeks and months? Check this out. The Best Movie Booksmart (in theaters May 24 - sign up for a Fandango FanAlert here) Why we love it: Directed by Olivia...
Today in Movie Culture: 'Shazam!' Meets 'Big,' 'Captain Marvel' VFX Breakdown and More
Mon, 18 Mar 2019 23:26:44 GMT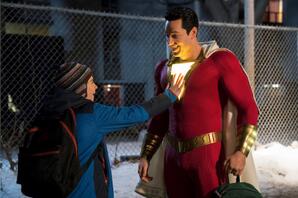 Here are a bunch of little bites to satisfy your hunger for movie culture: Mashup of the Day: Well, this was inevitable. Ever wish Tom Hanks had starred in a superhero movie? Shazam! is heavily inspired by the classic Hanks-led fantasy comedy Big, so Nerdist went ahead and perfectly mashed the trailer for the new entry in the DC Extended Universe franchise with that and other Hanks movies, including The 'Burbs and Joe Versus the Volcano: Cosplay of...
Check Out Brad Pitt and Leonardo DiCaprio in First 'Once Upon a Time in Hollywood' Poster; Here's Everything We Know
Mon, 18 Mar 2019 16:49:28 GMT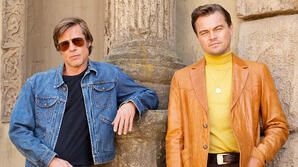 Quentin Tarantino's next movie, Once Upon a Time in Hollywood, will mix his usual ensemble-heavy pop-culture-infused storytelling with a real-life tragedy. Focused mainly on fictional characters, the feature's backdrop will be Tinseltown in the late 1960s, with a specific link to a true crime involving famous Hollywood players. While we wait for the first trailer for the movie, Sony has released — via Leonardo DiCaprio on social media — the first poster for Once...
Next 3 Marvel Studios Movies: 'Avengers: Endgame,' 'Spider-Man: Far From Home,' ???
Mon, 18 Mar 2019 15:00:00 GMT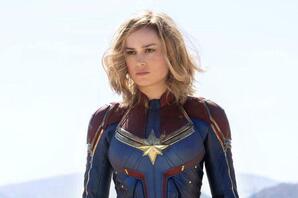 Brie Larson stars in Captain Marvel, the first Marvel superhero movie to revolve around a female character. Audiences have responded warmly to the star, the story, the superpowered action and the retro-90s setting. With Captain Marvel continuing to enjoy a healthy run in theaters, we peek down the road to see what else Marvel Studios has up their sleeves. Avengers: Endgame The long-anticipated conclusion to this phase of the Marvel Cinematic Universe will follow the Avengers as...
Today in Movie Culture: If J. Jonah Jameson Was in 'Avengers: Endgame,' Actresses Almost Cast as Captain Marvel and More
Fri, 15 Mar 2019 22:08:56 GMT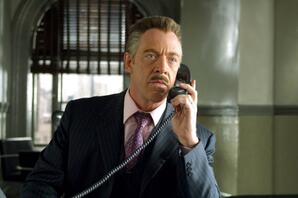 Here are a bunch of little bites to satisfy your hunger for movie culture: Character Reprisal of the Day: J. Jonah Jameson hasn't made his debut in the Marvel Cinematic Universe yet, but many fans wish J.K. Simmons could just reprise the role as he played in the first Spider-Man trilogy. That might never happen, but at least here's an animation of a Simmons-voiced Jameson as he would appear in Avengers: Endgame: What would it be like if J. Jonah Jameson was in...
The Week in Movie News: James Gunn Returns for 'Guardians of the Galaxy Vol. 3,' Marvel's 'Shang-Chi' Finds a Director and More
Fri, 15 Mar 2019 22:01:51 GMT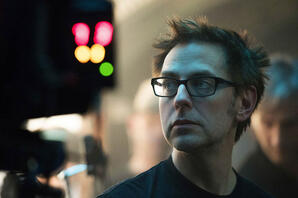 Need a quick recap of the past week in movie news? Here are the highlights: BIG NEWS James Gunn to direct Guardians of the Galaxy Vol. 3: Disney and Marvel Studios reinstated James Gunn as the director of the third Guardians of the Galaxy movie after the studio had fired him last summer over inappropriate past social media content. Gunn, who wrote and directed the first two Guardians installments, had already scripted Guardians of the Galaxy Vol. 3, but the sequel is still delayed...
Exclusive, Evocative 'The Mustang' Clip: Marquis
Fri, 15 Mar 2019 17:00:00 GMT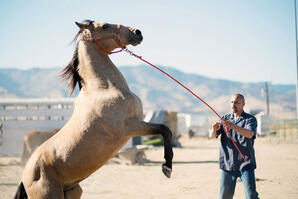 How do you communicate with a horse? In The Mustang, Roman Coleman (Matthias Schoenaerts) has no idea. He's a violent convict who has been given the opportunity to join a rehabilitation therapy program in which participants train wild horses. In our exclusive clip, Roman seeks advice from Henry (Jason Mitchell) about his unnamed horse. Henry points out: 'Everyone needs a name,' leading Roman to a decision about what to call the wild mustang. Watch the evocative clip below....